DoorBird D202 Video Door Station Stainless Steel
DoorBird D202
- It is as simple as that. You speak with your visitors and open the door by smartphone – from anywhere in the world. It combines innovative technology with exclusive design. A smart solution – Made in Germany. Do you remember the time you learned how to answer the phone cautiously with your parents? Probably it's even more important to know who is in front of your door. DoorBird combines convenience and security – at any age.
You can rely on this solution
DoorBird works not only as a doorbell but also offers smart home security: Most burglaries occur during daytime hours, when homes are usually unoccupied. Being home is often sufficient to prevent a potential burglary. With DoorBird, you can answer the door from anywhere in the world. With DoorBird, you're allways home. Due to integrated 180° IR-motion detector, it detects any activity on your property and sends instant alerts to your smartphone and tablet. It can, if desired, set off an alarm – without the visitor having rung the doorbell. Traditional security systems only react once a break-in has occurred. DoorBird is designed to help prevent a break-in from taking place at all. DoorBird can capture every activity detected by the built-in IR-motion detector and doorbell rings. Therefore the HD-video is recorded and stored securely in the cloud.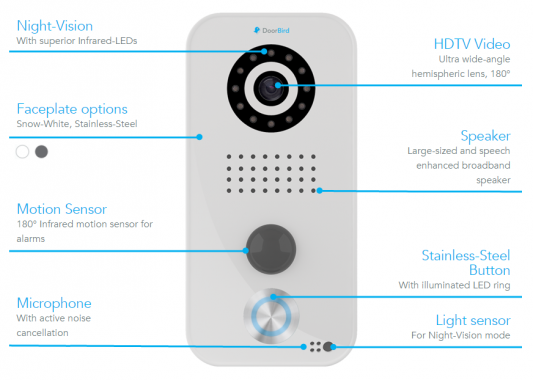 High tech makes life easier
With DoorBird you will not miss any more deliveries – because you will be informed right away when the postman rings. In addition, this innovative idea was developed by the Bird Home Automation Group located in Berlin and San Francisco.
Quality for a safer home
Hence, DoorBird is manufactured in Germany. A guarantee for the highest levels of quality and production standards. Temperature- resistant from -20° to +40° C, rain water protection in accordance with IP54 industry standard, a stylish product design with high quality stainless steel surface.
DoorBird d202 Specifications
Video:
Camera: HDTV 720p, dynamic (VGA – HDTV)Lens: High-end Ultra wide-angle Hemispheric Lens 180° horizontal, 90° vertical, straightened, IR-capableNight-vision: Yes, Light sensor, Automatic IR-Cut Filter
Audio:
Components: Speaker and microphone, Echo and Noise CancellerStreaming: Two-way
Network:
WiFi: 802.11b/g/n 2.4GHzEthernet: Connector
Motion sensor:
Type: Passive Infrared Sensor (PIR)Detection angle: 180°Range: 2-8m (dep. on environm.)
Illumination:
Lighting ring: 12 intelligent Infrared LEDsRange: 2-8m (dep. on environm.)
Integrated Wireless Modules:
WiFi: 2,4 GHz, internal antennaRFID: 433 MHz, internal antennaBluetooth: Available separately
General:
Housing: Front panel 3,0mm brushed Stainless steel, Stainless steel surface- mounted housingDoorbell button: Stainless-steel button with illuminated LED RingMounting type: Surface-mountedPower supply: 15VDC (power 110-240VAC) or Power over Ethernet (PoE 802.3af Mode-A)Weight: 1,35kgConnectors: Two-way Power, Electric door opener / strike, Door chime, Door opener button, NetworkOutdoor-ready: Yes, IP54Approvals: CE, IC, FCC, IP54Dimensions: 215 x 125 x 59mm (H x W x D)Operating conditions: – 20 to +40°C, Humidity 10 to 85% RH (non condensing)
Current system requirements:
Mobile device: Latest iOS on iPhone /iPad, latest Android on Smartphone or TabletInternet: High-Speed landline broadband Internet connection, DSL, cabel or Fiber, min. 500kbs Upload bandwidth, no Socks- or Proxy serverNetwork: 802.11b/g/n 2.4GHz or Ethernet network, with DHCPRecommended installation height: Camera lens should be at a min. height of 125cm
Smart Device Type

Entry & Security, Intercom