Fibaro Bypass 2
Fibaro Bypass 2 (FGB-002) is designed to work ONLY with Fibaro Dimmer 2.
It is necessary to use Fibaro Bypass 2 with LED bulbs or energy saving compact fluorescent lamps. In 2-wire connection 
Fibaro Bypass 2 
reduces the minimum power of the load required by the Dimmer 2 to 5VA. Many LED lights cannot be conventionally dimmed without flickering because of the ultra low voltage that they use. With the Fibaro Dimmer Bypass low wattage devices are no long problematic at all. Therefore paired with the Fibaro Dimmer 2, the Fibaro Dimmer Bypass 2 allows for the dimming of dimmable LED bulbs, conventional incandescent and halogen light sources, dimmable contact fluorescent CFL tube lamps. In conclusion, Fibaro Dimmer 2 uses Z-wave wireless communication to provide reliable system. Z-Wave is a wireless communications specification designed to allow devices in the home (lighting, access controls, entertainment systems and household appliances, for example) to communicate with one another for the purposes of home automation. Also, Z-wave avoids interference with WiFi, Bluetooth and other systems that operate on the crowded 2.4GHz band.
Key Features of FGB-002:
•  Power source: 220-240V (AC)  50Hz •  Operational temperature: 0-35°C •  Power consumption: < 1.2 W •  Outside dimensions (L x W x H) – 31 mm x 21.6 mm x 13 mm
Downloads:
Fibaro bypass 2 manual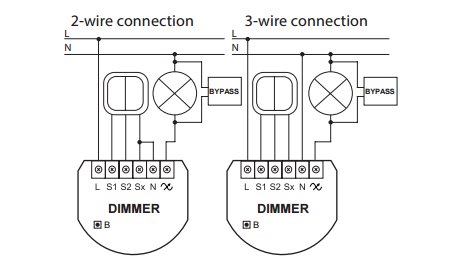 Smart Device Type

0, 0

Bulk Pricing

0

Automation System

0
Customers who bought this product also bought: