Fibaro Dimmer 2
Fibaro Dimmer 2 is designed to work with many light sources. It enables control of lights by Z-WAVE and is easily incorporated into existing wall switches. The Fibaro unit automatically senses connected devices, features automatic overload protection switch-off and soft start function. Works as a dimmer or as a connector, with two-wire or three-wire cables. The Fibaro Dimmer utilizes MESH technology and re-transmits your instructions to other Z-WAVE controlled units. Our product is considered to be the SMALLEST of its type in the world.
As a dimmer, our product is compatible with:
230V operated conventional incandescent lamps,
230V operated halogen lamps,
12V operated MLV halogen lamps,
dimmable LED bulbs,
dimmable compact florescen CFL tube lamps,
using Bypass 2, with supported dimmable light source up to 250W.
As a connector, works with:
Compact fluorescent CFL tube lamps with electronic ballast,
LED lamps,
Old type fluorescent lamps,
using Bypass 2, with supported light source up to 250W.
Please note, this device must be installed by a licensed electrician. Before contracting an electrician please check that they provide a warranty and electrical compliance certificate. Therefore you must provide a installation compliance certificate from your electrician for warranty claims . Extended features of Fibaro Dimmer 2:
Integrated LED status light which changes color based on the level you are in inside the configuration menu. It also indicates faults in the circuit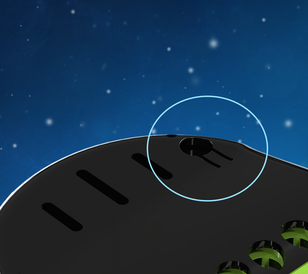 Active power and energy metering functionality
Auto calibration
Smart light source detection
Technical Data for the Fibaro Dimmer:
Power source 230V +/-10%, 50Hz
Output power 50-250W (resistive loads), 50-200 VA (resistive-capacitive or resistive-inductive loads)
mounted in standard wall switch boxes fi >= 50mm
Outside dimensions (L x W x H) 42mm x 36mm x 15mm
Radio protocol and frequency: Z-Wave 921.42mhz
Antenna range: up to ca. 50 meters outdoor, or up to 30 meters inside (depends on building structure)
Works with momentary, toggle, three-way switches
Overcurrent protection: required external 10A circuit breaker
Using bypass 2 reduces the minimum power of the load and prevents LED lights from flickering
Z-Wave Plus certification
Note: Do NOT use Fibaro Dimmer 2 with old Fibaro bypass 1 (FGB-001), it may damage your dimmer. Please note, this device must be installed by a licensed electrician.
Dimmer 2 uses different operating modes to control following types of loads: 1. "Trailing edge" for resistive loads (R) 2. "Trailing edge" for resistive-capacitive loads (RC) 3. "Leading edge" for resistive-inductive loads (RL)
Download Fibaro Dimmer 2 Manual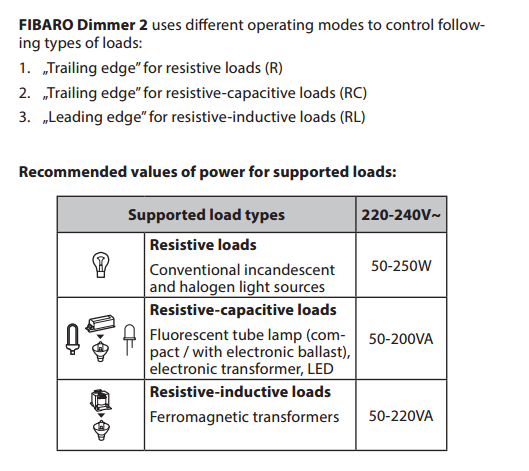 Smart Device Type

0, 0

Bulk Pricing

0

Automation System

0
Customers who bought this product also bought: