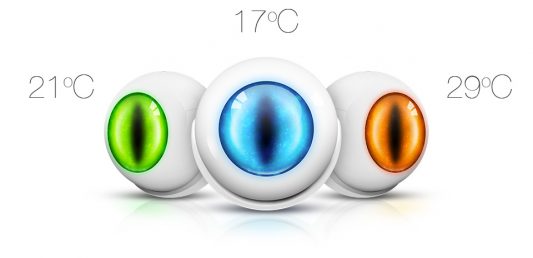 Fibaro Motion Sensor
Introducing the Fibaro motion sensor. Inspired by nature, The Fibaro design maximises the detection area while limiting its size. Its jewel like design is based on Cat's Eyes but looks is not all that it offers.
Multisensor 
We understand that in home automation, half of the work is detecting and sensing the environment so the Home centre can tell its relays and components what to do. This is the reason why we added all the following features in 44mm; Motion Sensor - to give you security and peace of mind, Motion is also used in everyday automation tasks. Light sensor , you want the lights on, but only when there is not enough light. Light sensing capabilities tell you precisely how much ambient light there is in the room so you can adjust or automate as per comfort Temperature - The inbuilt thermometer is there for your comfort also to help protect you incase of fires Accelerometer - Why? This is actually a great addition from a  security perspective. The accelerometer sense vibrations crucial in detecting a break-in before its even fully underway. and as a way detect potential tampering
Animate Technology
The Fibaro motion sensor comes
ALIVE! 
Depending on your preferences the sensor can inform your of with its inbuilt screen as seen above, or using colour it can show you the temperature of a room. The Fibaro Motion sensor is extremely portable, its small size, 44mm and long lasting battery life, up to 3 years, allows you to setup your system, change it and forget it.   Download our 
Motion Sensor Manual
Smart Device Type

0

Bulk Pricing

0

Smart Sensor Type

0

Automation System

0
Customers who bought this product also bought: